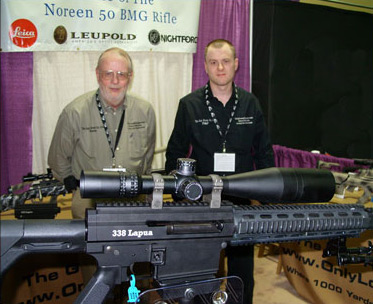 Peter Noreen has been a gunsmithing legend for the last quarter century. He made his mark custom-building scaled up Pre-64 Model 70 Winchester actions for use in heavy caliber rifles designed for taking the world' s dangerous game.
Phil Noreen grew up in his father's shop, learning the rifle-building trade from the ground up. A shared passion for ultra long range shooting led the father/son team to create the first Noreen Ultra Long Range Rifle in 2007.
Their ideas evolved, and in early 2010, the Noreens introduced the "Bad News" 338 Lapua Ultra Long Range Semi-Automatic Rifle.
The first rifle to utilize the popular 338 Lapua loading in the proven AR platform, the Noreen Bad News has been widely praised in tactical circles for its range, power, performance and versatility.
In 2013 the Noreens unveiled an AR style rifle called the BN36, in 30-06, 270, and 25-06 to the public.