Brad Bags his Bull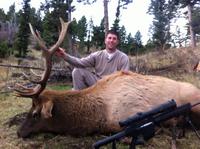 During the first week of November, Brad, a friend of ours at BW Outfitters, came out to visit Noreen Firearms and explore the Montana wilderness. Nathan, a member of the Noreen team, took Brad to a secluded spot on the east side of the Bridger Mountains with a small group of hunting buddies.
---
Before long, the group had crested a ridge and stumbled across a lone bull elk. This is what every hunter dreams of. Brad dialed in his scope for the 400 yard shot, lined up his sights, and dropped the large bull with one clean shot.
Luckily for Brad, he still had a cow tag to fill. Brad and Nathan went out again later that week, and Brad was fortunate enough to shoot a beautiful cow elk.