The Award Winning 30-06 AR-Style Rifle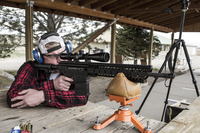 The Noreen Firearms Carbine Assassin-X chambered in 30-06 was released in January of 2016, and it's been turning some heads. Since its first public appearance at SHOT Show, this rifle has quickly become one of our most popular models, and for good reason. It made the top 10 list of Blue Book of Gun Values 2016 TOP TEN Firearms Industry Awards...here's why:
As an upgraded model from our standard Carbine Assassin, this AR-style 30-06 carbine has some unique features that you won't want to miss out one.
The LUTH-AR stock allows for maximum shooter support, and is fully adjustable to fit numerous profiles. Being accessible to a wide variety of shooters was a huge part of this design. In addition, you can purchase cheek risers and adjustable butt plates directly from LUTH-AR, to add to the customization and configuration of this rifle without emptying your wallet.
Weighing in at a mere 7lbs and sporting a 16" barrel, the Carbine-X is easily handled and maneuvered through thick cover and when sweeping corners, making it an excellent choice for tactical outfits or for chasing down big game in dense foliage. The fact that it's chambered in 30-06 just adds to the bang value of this small package.
If you're looking for something a little more practical than your .223, look no further. We're not the only ones in love with this rifle. You can check it out online here: http://onlylongrange.com/bn36-carbine-assassin-x/
Need more? See what Blue Book of Gun Values had to say:
https://bluebookofgunvalues.com/blogs/toptenblog.aspx?blog=8&article=311